Kosta Petrov is internationally renowned entrepreneur, PR expert and a bestselling business author in North Macedonia.
He is the founder of P World, one of the world's leading events agencies with operations in 40 countries across Europe, the Middle East, Asia, Africa, Asia and North America.
For two years in a row, Kosta was included in Kongres Magazine's list of Most Influential Events Professionals in Southeast Europe.
He is a contributor for the US edition of the Huffington Post and MENA's Digital Boom, former Head of Professionals Development at IABC EMENA and a regular speaker at events around the world on the topics of entrepreneurship, public relations and leadership.
Kosta is also a bestselling author in his native Macedonia and the author of the internationally acclaimed book The Fear. He is also the editor of the Little Black Book of PR, the first ever book on public relations written by PR practitioners for PR practitioners.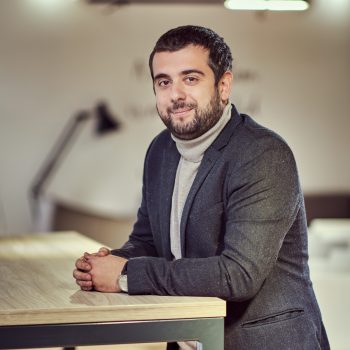 Nikola Klopcevski
Sector for customer monitoring and implementation of programs to support the private sector
e-mail: nikola.klopcevski@fitr.mk
Contact: 072314648
Nikola Klopcevski has over ten years of work experience in the financial and banking sector and has been part of the team of the Fund for Innovation and Technological Development for seven years. Klopcevski is the head of the customer monitoring department and has been part of the Fund since its establishment.
Improves its career and knowledge internationally by participating in several seminars and trainings including "Seminar on Innovation and Development of Small and Medium-Sized Enterprises" held in the PRC, "Technopreneurship: Enabling innovation and start up ecosystem" held in Singapore as well as Fintech workshop organized by the NBRM and EFSE.
Klopcevski is a graduate economist in the field of foreign trade at the University of Ss. Cyril and Methodius – Skopje. He is currently studying for a Master's degree in Monetary Economics, Finance and Banking at the Faculty of Economics at the University of St. Cyril and Methodius – Skopje.
Katarina Kreceva
Sector for programs in the field of education, research, development and innovation
e-mail:katarina.kreceva@fitr.mk
Contact: 072314636
Katarina Krecheva holds a Master's Degree in Development and Education Policy from the University of Cambridge and a Master's Degree in Eastern European Studies from the University of Bologna. She has attanded several trainings in the field of public policy making, harmonization with the law of the European Union and management of the funds of the European Union.
Her previous work experience includes engagements in the civil society sector, international development agencies and public administration (NGOs, UNDP, Ministry of Education and Science).
She is the author of several international and domestic publications in the field of analysis and public policy making. She has participated in evaluation committees for evaluation and selection of projects in the field of education and innovation (O2 Challenge, Junior Achievement, Challenge for young researchers, Social Impact Award, FinHackaton, Balkan Technology Match, Western Balkans Digital Summit, Start-up Camp Pitching Competition and others). As a trainer, she has held several trainings on topics related to public policy making, project preparation, project proposal evaluation, women entrepreneurship and others. As a moderator and / or speaker he has participated in several national and international events (European Innovation Council Roadshow – EC – Skopje; 3rd Forum on Innovation Reshaping Monte Negro: Youth, Innovation, Sustainable Future; The Innovation Community Panel – Digitalks Kosovo; Balkan Technology Match – Skopje; Proof of Concept in South Eastern Europe – JRC – Trieste; Entrepreneurial education in the Republic of Macedonia: problems and challenges – MANU; Workshop on How to successfully facilitate technology transfer and commercialize research results in the Western Balkans "- Regional Cooperation Council – Split, and others).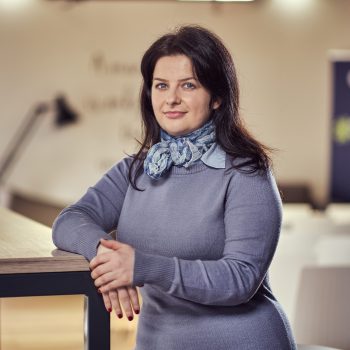 Tanja Ilijevska has 18 years of work experience in the financial sector, of which 4.5 years is part of the team of the Fund for Innovation and Technological Development.
Prior to joining the Fund for Innovation and Technological Development team, Tanja Ilijevska successfully built her career in the banking sector in important positions such as Branch Executive Director, Deputy Regional Director, responsible for Strategic Clients in the Corporate Banking Sector as well as an advisor for international clients and embassies.
During her banking career, Tanja Ilijevska has gained international experience through engagements and trainings in the banks of the Western Balkans region and the member states of the European Union. She has over 10 years of managerial experience in the banking sector and close specialization in lending to the private sector and selling banking services.
Tanja Ilijevska is a graduate economist in the field of international economic relations at the University of Ss. Cyril and Methodius – Skopje.
Ilinka Deleva is a graduate professor of mathematics at the University of Ss. Cyril and Methodius – Faculty of Natural Sciences and Mathematics, Department of Teaching Mathematics.
She has work experience in the field of budget operations and financial sector for 20 years, of which 2.5 years is part of the team of the Fund for Innovation and Technological Development.
She started her career at the Secretariat for European Affairs, where she successfully studied budget work. In this institution she gains vast work experience, encounters many challenges as well as overcoming many problems brought by work.
During her work in the Secretariat for European Affairs, Ilinka Deleva has obtained many certificates and diplomas, attending trainings and study tours including: EU and the functioning of EU institutions, Time frame for preparation of the national program for the adoption of EU law, Business and communication, ethics, basics of administrative, legal and financial operations, written communication and speech culture, IPA Funds, Industrial Development of the PRC, as well as training related to financial statements, treasury operations, etc.
Irena Gjorgievska holds a law degree and a master's degree in business law from the Faculty of Law, Ss. Cyril and Methodius "Skopje.
She has more than ten years of experience as a Project Manager and Coordinator for the implementation of projects funded by international development organizations (USAID, EU-IPA Cross-Border Cooperation, GTZ). Within the USAID Macedonian Business Center project, she coordinated a number of SME clients with tasks that included: identifying companies in need of technical assistance; diagnosis and analysis of the problems of domestic companies; coordination of specialized teams in the field of marketing, finance and manufacturing as well as providing technical assistance from foreign consultants and experts.
Her experience includes working as a manager in the private sector, in a company in the field of mechanical industry.
In her career Irena has worked on the preparation and implementation of trainings in the field of company management; program development and implementation and preparation of legal analyzes for the needs of the non-governmental sector in the field of social entrepreneurship and local development, as well as preparation and implementation of competitions and challenges